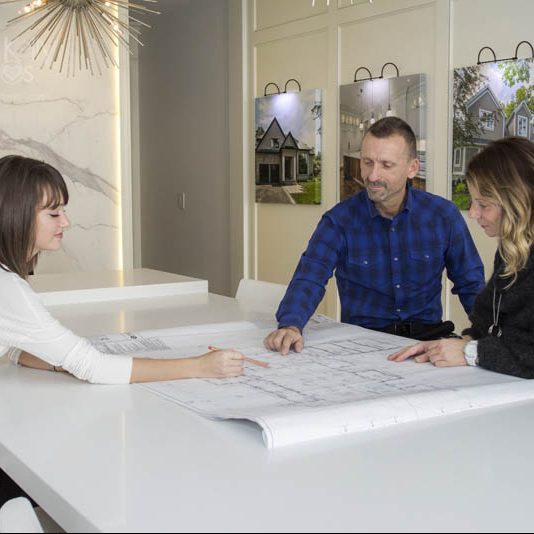 Balance the form and function of your space with our full design & build service.
With hundreds of ideas and options to choose from where do you begin to create the perfect design? At Rock Cliff Custom Homes we guide you through each step of the design phase. We offer exterior and interior 3D rendering to give you an accurate plan, and we handle the permit process from start to finish to give you peace of mind. Together we will make sure all the fine details flow with the big picture to ensure one cohesive finish.
You're just one click away from the home of your dreams.
Book your free consultation and we'll walk you through our plan to design and build a truly custom home.
Interior Design
Your Vision – Our Passion
Tailored to you and your design needs, we bring you creative, unique and innovative solutions to provide properly functional and personal spaces throughout your home. Dealing with projects of any size, based on your individual style, budget and timeline, we intend to provide a consistent professional and reliable finish and quality. Our designers guide you throughout your design project, providing clear communication to ensure they exceed your expectations.
Space Planning
Furniture Design
Accessory & Art Selections
Custom Lighting
Fixture and Ceiling Design
Finish Selections
Electrical Plans & Design
---
Architectural Design
Expert Design Build Planning
Specializing in custom residential renovations, architectural engineering is imperative to providing our clients with highly personalized projects. From conversions or extensions, to new build and redesigns, our planning services offer a unique perspective and often unrealized project potential.
Custom design homes and renovations
Schematic and Design renderings
Design revisions
Construction preparation documents
Project Design Development
Project Permits
Exterior Upgrades
Mechanical and Structural Designs
Our Streamlined Approach is Where we Shine
Step 1: Consultation
In this initial discussion, we'll explore your wish list, budget, timing, lot size, site stats, local bylaws, and build restrictions.
Step 2: Initial Designs
This phase includes the initial designs for the front elevations, and the 1st and 2nd level floor plans.
Step 3: Design Completed
At this stage, we will finalize the architectural design, complete the interior design, submit for permits, and finalize your budget.
Step 4: Build
This is where the meticulous planning and preparation pay-off. During the build, your dedicated project manager will keep you up to speed on the progress and answer any of your questions. The entire process is managed through our state-of-the-art Build App, that keeps everything in one, organized location.
STEP 5: ENJOY YOUR DREAM HOME OR COTTAGE!